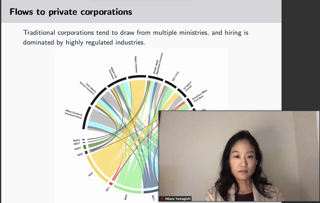 The second session of the Japanese Politics Online Seminar Series (JPOSS) took place on August 14, 2020. Daniel Smith (Harvard) chaired the seminar and moderated the question and answer session, he also welcomed other future participants to submit papers for future sessions at https://jposs.org/submit/.
Trevor Incerti (Yale) and Hikaru Yamagishi (Yale) presented their paper, "Do Firms Benefit from the Revolving Door? Evidence from Japan." In their presentation, Incerti and Yamagishi presented a quantitative dataset that explores an area of Japanese political economy that is widely known but less understood, the private sector hiring of former civil servants—a process known as the revolving door (or amakudari in Japanese). Incerti and Yamagishi leverage a 2009 law requiring Japanese bureaucratic agencies to report all private sector hires of former civil servants in order to build the first comprehensive dataset of revolving door hires in Japan. In addition to presenting a descriptive account of revolving door hires over the past ten years and data on Japanese government contracts, the authors discussed their plans for integrating said datasets into future research projects that explore various aspects of how Japanese firms benefit from hiring former bureaucrats.
Discussant comments were offered by Hye Young You (NYU), Yuhua Wang (Harvard), and Ulrike Schaede (UCSD). The discussion raised interesting questions about how the revolving door impacts Japanese politics and economy. The discussants and the audience also offered many constructive suggestions on possible future directions of the research.
The seminar attracted around fifty-five participants from all over the world. The organizers would like to thank the presenters, discussants, and participants, as well as the staff at the Harvard Program on U.S.-Japan Relations, who provided administrative support. We look forward to seeing you at the next session of JPOSS. You can learn more here: https://jposs.org/